Human Ecodynamics in the North Atlantic
A Collaborative Model of Humans and Nature through Space and Time
Ramona Harrison and Ruth A. Maher have compiled a series of separate research projects conducted across the North Atlantic region that each contribute greatly to anthropological archaeology. This book assembles a regional model through which the reader is presented with a vivid and detailed image of the climatic events and cultures which have occupied these seas and lands for roughly a 5000-year period. It provides a model of adaptability, resilience, and sustainability that can be applied globally.
Further details on this book are available on the Lexington Books website.
---
Greenland Isotope Project: Diet in Norse Greenland AD 1000-AD 1450
Journal of the North Atlantic Special Volume No. 3 presents one of the most comprehensive studies to date of the food consumption and dietary economy of a historical population based on stable isotope analysis. The Norse Greenlanders are in this respect particularly of interest because their settlements in Greenland were constrained chronologically (ca. 500 years) and physically (the pasture lands of Southwestern Greenland). Archaeological efforts in Greenland have very likely uncovered all the settlement areas, including churches and cemeteries; thus, we can be reasonably assured that while new finds of, e.g., farmsteads may appear in future, the overall picture of the Norse settlements is pretty much fixed.
---
Project Management
A lot of new data has been added to our Project Management System, including several new Scottish sites, more Icelandic project and the addition of sites further south in Antigua and Barbuda and Cuba.
We have created a Project Management System, where NABO projects can be entered by researchers, displayed on a map and content made available to others. Please check out this new feature here or use the projects link above.
If you wish to enter data into the system, you must first register but no registration is needed to search for projects and download data.
---
Hofstaðir Award
Gavin Lucas and Fornleifastofnun Íslands have received the DV Cultural Award for The Hofstaðir. Excavations of a Viking Age Feasting Hall in North-Eastern Iceland monograph. The jury's comments follow: "In 1992 started a large scale archaeological excavation at Hofstaðir near Mývatn, NE-Iceland. The work continued for over a decade. The results have now been presented in a very detailed and elegantly presented monograph. This works offers many new insights into the Viking period in Iceland, the nature of the Settlement and the interplay between man and nature in 9th-11th century Iceland".
Surviving Sudden Environmental Change: Answers from Archaeology.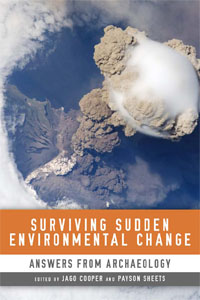 Cooper, J and Sheets, P. (eds) (2012) Surviving Sudden Environmental Change: Answers from Archaeology . University Press of Colorado, Boulder p256.
The University Press of Colorado have just published a new book on how the archaeological record can help us to understand how we can cope with sudden environmental change. This book arose out of the October 2009 meeting in Maine, which lead to the creation of GHEA and this is the first major publication from our group.
The editors, Jago Cooper and Payson Sheets, have brought together authors from a wide variety of backgrounds to contribute to this publication. It is available to buy for only $19.99, but it can be downloaded for free as a PDF from The University Press of Colorado
This will hopefully be the first of many collaborative publications from the GHEA community. Feel free to join GHEA here.
---
Kids Archaeology School
The Kids' Archaeology School (Fornleifaskóli barnanna) was formally established in the spring of 2007 and has since grown in scope and aim.
Icelandic television RUV news report [29/06/2011]
The Kids archaeology program is now a key part of the Historical Ecology: Islands of Change Initiative, funded in part by the National Science Foundation Office of Polar Programs in the USA. This collaboration allows Icelandic students to interact through organized activities with students in in New York, Greenland, Orkney, Faroes, Norway, Antigua/Barbuda, Curacao and Bonaire.
Details about the Kids' Archaeology School, Iceland can be found on the NABO website and the Fornleifaskóli barnanna site.
The latest report on The Kids Archaeology Program (Fornleifaskóli barnanna) by Sif Jóhannesdóttir and Unnsteinn Ingason is now available.
---
FSÁ Donation to NABO
At the 2009 Viking Congress held in Reykjavik and Reykholt The Institute of Archaeology (Fornleifastofnun Áslands) (FSÁ) made a major donation to the NABO website data project of over 20 years of research amounting to over 300 survey and excavation reports in downloadable pdf format. 70 sites/projects and 149 reports loaded into our system, they can be accessed here .
We would like to gratefully acknowledge this generous gift of hard won data by FSÁ to the Icelandic nation and to the international community and we look forward to working with them in the future to provide updates to this impressive body of information.
Norse Greenland: selected papers from the Hvalsey Conference 2008
The Journal of the North Atlantic has recently published the book Norse Greenland - selected papers from the Hvalsey Conference 2008. Editors are Jette Arneborg, Georg Nyegaard and Orri Vésteinsson. The book is about 200 pages and includes 16 papers on various aspects of the Norse settlement in Greenland. For those interested in purchasing a copy of the book, contact kristborg@instarch.is.
---
GHEA website
October 2010 saw the launch of our sister GHEA website. The Global Human Ecodynamics Alliance (GHEA) is an organization of social scientists, natural scientists, historians, educators, students, policy makers, and others interested in promoting cutting-edge research, education, and application of the socioecological dynamics of coupled human and natural systems across scales of space and time.
As of May 2016 there are now 203 members and to join this dynamic group visit http://www.gheahome.org.
---
International Polar Year
NABO members were very active during IPY on the national and international scale, and major funding was secured from Danish, Canadian, and US sources for an ambitious effort to continue and expand NABO collaboration with a special NABO IPY Project: Long Term Human Ecodynamics in the Norse North Atlantic: cases of sustainability, survival, and collapse. This project was funded at just over US$ 900,000 and had fieldwork seasons 2008-10 in the Shetlands, Faroes, Iceland, and SW Greenland.
More details of our involvement in International Polar Year can be found here.
---
Barbuda
NABO is not all about the northern North Atlantic. We are also active in the Caribbean. Our work in Barbuda began in 2000 with CUNY archaeologists and an international team of environmental researchers, in collaboration with the Antigua & Barbuda scholars and agencies and by the invitation of Dr. Reg Murphy (head of archaeology for National Parks Antigua and Barbuda). Reports on our work in Barbuda are available here.
---
NABONE 9th Edition
This recording manual is the 9th working version of the NABO Zooarchaeology Working Group Data Records Project, authorized by the January 1997 working group meeting in New York City. The basic structure follows James Rackham's database (Microsoft Access) with some changes and clarifications for North Atlantic applications
The NABONE system consists of this coding manual, a developed Microsoft Access database with useful queries and reports, and an Excel spreadsheet set providing analytic output similar to the old Hunter College QBONE system.
This recording manual is available here