Products
The NABO cooperative is actively producing various products to help the research community advance our knowledge of the North Atlantic region and elsewhere. We want to make these as widely available as possible and the links from this page provide a wide range of products which are free to use. These range from online manuals on zooarchaeological identification to information on computer models which investigate landscape evolution and human impact. If you have any similar products you would like hightlighting please let us know.
Tephrabase GIS and Tephrostratigraphy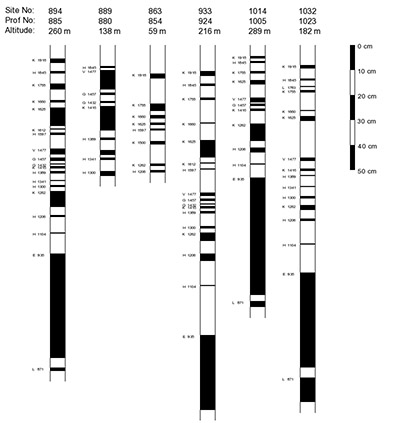 Tephrochronology not only provides chronological controls for archaeological sites in Iceland, but it also allows us to study the rates of environmental change through calculating sediment accumulation rates. Two new tools have been launched on Tephrabase, which allow the automatic creation of tephrostratigraphic profiles and calculation of sediment accumulation rates (SeAR) from 200 profiles in Skaftartunga. These were originally developed by Dale Cameron (2011), for his MSc Geographical Information Science dissertation at the University of Edinburgh in 2011. The data currently used in this extension are from Richard Streeter's 2012 PhD thesis (Streeter, 2012) and further details can be found in Streeter and Dugmore (2014). Other suitable data will be linked into this system in the future.
NABO on Vimeo
We now have a NABO channel on Vimeo, where we will be posting various vidoes of our work. The first five videos have been posted on our excavations in Barbuda. More will be added soon.
NABONE Fish
Originally available on a CD, FISHBONE 1.1 Identification Manual for Gadid Fish in the N Atlantic (Sophia Perdikaris, Yekaterina Krivogorskaya, Tom McGovern and Pirjo Lahtiperä, 2004) is a comprehensive collection of data, including numerous images of bones from Gadid fish found in archaeolological sites throughout the North Atlantic region.
Red Throated Diver Manual
A visual guide to the Identification of Avian Osteological Remains Manual No. B1 - Gavia stellata. This was the first in a series of digital osteological manuals being produced by the NABO Zooarchaeology Working Group and the International Congress of Archaeozoologists (ICAZ). The Red Throated Diver Manual is available here.
British Isles Archaeological Bird Database
D.W. Yalden, formerly School of Biological Sciences, University of Manchester, M13 9PL, UK
d.w.yalden@mancester.ac.uk
This Access database and its accompanying Endnote reference library were compiled by Rob Carthy, funded by a grant from the Leverhulme Foundation, to facilitate the writing of The History of British Birds, published by Oxford University Press in Nov 2008. It is an attempt to compile as complete as possible a list of archaeological sites in the British Isles (Ireland, Channel Isles, Man and Great Britain) which contain bird bones. The book attempts to digest the information, includes an annotated appendix of the record for each species, and includes caveats about the certainty (or not!) of the identifications. Perhaps the book should be taken as a set of hypotheses for further research - these records should be checked and their significance researched further. One thing that the book does not include is a complete list of all the sites and records which were summarised to produce it. This was deliberate, and predicated on the assumption that the database would indeed be made freely available to all interested parties. This is a fulfillment of that intention. I would be interested to receive information about further sites and further bird records.
To download the Access database, which contains nearly 10,000 records, please click here.
To download the Endote reference library, please click here.
D.W. Yalden
22 April 2009